Category Archives:
Bad Leadership
He shared in their humanity so that he might free those who were held in slavery by their fear of death. Hebrews 2:14-15
"How does the resurrection of Jesus transform your understanding and practice of leadership?" If someone asked you this question could you answer it clearly?
If this most pivotal event at the core of our faith doesn't have an impact on how we lead then surely something is wrong. Isn't it?
Toxic Leaders and the Fear of Death
As I thought about this point, I recalled a fascinating analysis of toxic leadership provided by Jean Lipman-Blumen in her book on toxic leadership. As with other poisonous things, these leaders come in varying degrees of toxicity.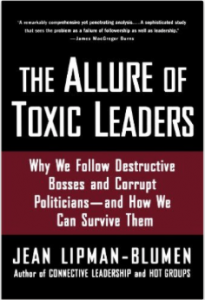 Petty Tyrants. Some are mildly poisonous—one might say "not altogether bad"—and are found in small domains, offices, churches and ministries. They set unreasonable goals, promote excessive internal competiton, and create cultures of blame.
(more…)